RFDM
is an association for diplomaed music therapists working according
to the FMT method , FUNKTIONALLY ORIENTED MUSIC THERAPY.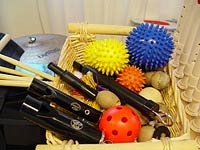 The association is a network for FMT therapists in Sweden and abroad.
Through documentation, continuation courses and information, RFDM works for developing and spreading knowledge about the FMT method.
The association supervises present national and international research and organizes courses. Through cooperation with Musikterapiinstitutet, Uppsala, and through membership in WFMT, World Foundation of Music Therapy, is RFDM also able to follow up development and experience in the music therapy field all over the world.
Membership in the association is given only to diplomaed FMT music therapists. Anyone, though, could contact the association to have information about music therapy and/or to get information about the closest music therapist.