Triennial education for FMT therapists
The FMT programme is triennial (part-time) and and extents 90 academic points. For admission, basic musical knowledge and basic skills in piano is demanded.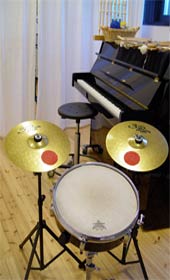 The programme covers a theoretical base containing
development theory
learning theory
handicap- and social knowledge
neurology
music psychology
Practical methodology, and practice including
methodology / observation technique
musical craft / practical exercise
practical music therapy / supervision
literature and reports
seminars/ examination
After passed examination, a study programme certificate and a diploma are obtained, which gives professional qualifications and justifies the title diplomaed music therapist.
The programme is approved by the music university's organisation, which means that it is considered a university programme with conventional entrance requirements and furthermore academic points.
Intake takes place 2 years of 3, with 10-15 students in each course.
Triennial education (part-time) for FMT therapists is available at