The concept of Music Therapy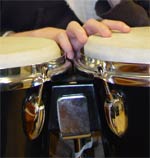 During the last few decades, a couple of music therapy-programmes started on university-level in Sweden. This means that it is therefore generally considered that music therapy only can be practised by educated music therapists, i.e. graduates from solid vocational training in music therapy. These programmes include medical training, as well as music psychology and techniques of treatment.

Before calling an activity music therapy, following demands could be claimed:
Music and/or music-practicing is mainly used as an instrument to reach treatment-effects

Diagnosis of the treated person's (patient's/client's) state of ill-health or disability grounds the base for the direction of treatment

Deliberate treatment is made on the person to achieve durable progress

Aims are set, towards which the treatment follows

The therapist has adequate knowledge (solid vocational training and a degree/diploma in music therapy) to practice the treatment in a safe way.
Music therapy is, consequently, an advanced way of treatment, demanding high qualifications from the therapist. From solid vocational training, the diplomaed music therapist has built the knowledge and competence needed to practice treatment in a responsible and reliable way; a way of treatment built on knowledge and well-tried experience.