Different directions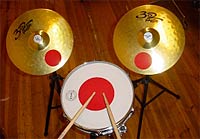 In Sweden today, there are three main-branches of higher education, giving professional competence in music therapy. The first branch is the psychodynamic, the second is the functional oriented, The FMT method, and the third is a basic education in special-pedagogical direction, "Sjöviks-utbildningen".

Within the psychodynamic direction, the work is made in a psychotherapeutic way and music communication are instruments used to arouse and influence emotions in order to release psychic blockage and to influence negative psychic states. A specific branch within the psychodynamic direction is a method building on guided imaginations which are stimulated by selected musical pieces, GIM.
Programme in psychodynamic music therapy is offered at the Music university in Stockholm.
Functional oriented music therapy is a neuromuscular method of treatment in which music and music communication are used as instruments to (by perceptual influence and challenging motor activity) influence perceptual-, motor-, cognitive- and emotional functions to a higher functional level within the individual. Further explanation on the FMT method.
Programme in FMT is offered at Musikterapiinstitutet in Uppsala and at the music university Ingesund in Arvika.
A programme in the special-pedagogical direction is offered at Sjövik's folk high-school.