How music influences
Everyone is quite clear about the fact, that music has a great influence on us, and also on animals. The The confusing part for the science, when trying to measure this influence, is that music (even the same musical ingredients) can influence different persons in different ways. Even the same music-piece can influence one and the same person in different ways, depending on the situation. The musical influence seems to be, to some extent, individualized and situation-depending.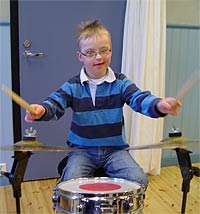 Music influences our emotions, even though this influence can act different in different individuals. By this emotional influence, music can also be used to influence the power of initiative and motivation, as a starting-point for action.
Interesting is also the possibility to let music work as a reinforcement for memory. It is clear that music in many situations works as strong memory-markers, helpful in fixing memory and also, later, in finding memory and in reproduction of memory in different categories.
Many of us can still remember the nursery rhymes and and songs we were taught in school, in spite of the fact that many reminiscences from the schooldays has fallen into oblivion. Most people has got a special music-piece associated with a special occurrence, from which this music-piece (at a later point) very easily brings not only pictures but also emotions, associated with the occurrence.
Another aspect of musical influence, which probably is directly connected to music's functions as memory-markers, is the structural influence music can have in our thinking. Certain kinds of music can very strongly disturb our concentration, while other kinds can have a strengthening effect. In this consistency , music appears to be able to influence the structural course in the brain and either disturb or strengthen functional connections in cognitive work.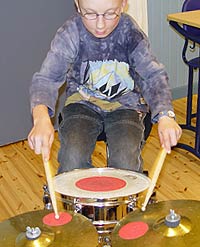 (To be translated...)
I en del undersökningar på senare år har man tydligt konstaterat en prestationshöjande effekt hos elever som fått stort utrymmer för musik och musikaliskt utövande när det gäller resultat i teoretiska ämnen. Musikklasserna i Adolf Fredriks musikskola har t.ex. alltid legat mycket högt i jämförande kunskapstester, även fast de haft mindre tid till teoretiska ämnen än andra skolor.
Undersökningar har också visat att genomsnittliga prestationer på intelligenstest har ökat under inverkan av viss typ av musik jämfört med annan musik eller ingen musik alls.
En mer allmän effekt som kan åstadkommas med musik är påverkan på social interaktion. Musik befrämjar i allmänhet den sociala samverkan i en grupp, och påverkar också känslan av gemenskap. Den musikaliska kommunikationen är basal och kan upprättas på en mindre komplex nivå än den verbalspråkliga. "Musik förenar" är ett gammalt uttryck som mycket insiktsfullt beskriver detta faktum.
Musik har allstå en stor potential för kommunikation, social samverkan, intellektuell påverkan, påverkan på minnesfunktioner, emotionell påverkan och påverkan på initiativ och motivation. Detta gör musik till ett mycket kraftfullt verktyg för terapeutisk verksamhet.
back to top